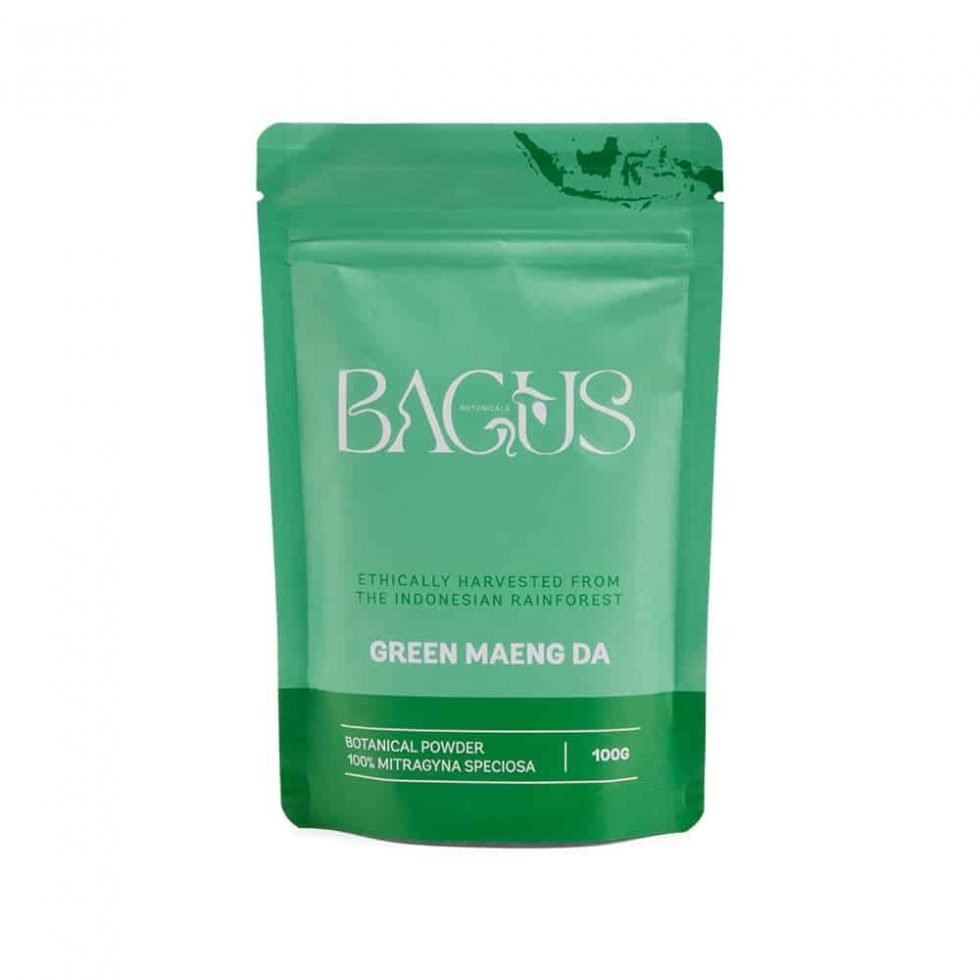 Green Maeng Da Kratom Powder
Batch #GM0012 is grown in Kalimantan, Indonesia
Commence on an exquisite journey with our Green Maeng Da Kratom, meticulously curated from 100% unadulterated Mitragyna speciosa leaf powder – absolutely no fillers, no additives. In Batch #GM0012, we proudly showcase an impressive MIT% of 1.8, reaffirming our unwavering commitment to excellence and underscoring the therapeutic prowess of the MIT alkaloid. This remarkable product, extending beyond the mere delivery of a euphoric buzz, has the potential to confer additional benefits, including profound antidepressant effects, reliable pain relief, and unparalleled mood enhancement. Elevate your kratom experience with this extraordinary product that sets new standards, where the synergy of purity and potency promises a truly remarkable journey.

Estimated Delivery:
Dec 11 Dec 15
Description
Additional information
Reviews (32)
Q & A (1)
Introducing Green Maeng Da Kratom, the highly coveted strain capturing the admiration of kratom enthusiasts around the globe. Recognized for its widespread acclaim, this top-tier variant holds favor among both seasoned users and those new to kratom. Its versatility positions it as an excellent option for consumption at any point in the day, delivering a robust and effective experience tailored to individual preferences.
Explore the distinctive qualities of Green Maeng Da kratom as it flexibly caters to your specific needs, ensuring a gratifying and enjoyable journey. Embrace the potency of this exceptional strain and elevate your kratom journey to unprecedented heights.
Benefits of Green Maeng Da Kratom:
Elevated Energy Boost: Revered for its unique alkaloids, Green Maeng Da Kratom provides an energy surge surpassing that of coffee, making it ideal for enhancing endurance and revitalization.
Enhanced Mood: Positively influencing users' outlook, Green Maeng Da Kratom fosters a sense of mental satisfaction, acting as a reliable mood enhancer.
Improved Focus: Acknowledged for its role in concentration and focus, this botanical triggers dopamine production, enhancing attention span and mood.
Enhanced Cognitive Skills: Advocating cognitive benefits, Green Maeng Da Kratom purportedly stimulates acetylcholine production, aiding in learning abilities and memory retention.
Relaxation at Higher Dosages: Inducing relaxation at elevated doses, it alleviates stressful mental challenges, leaving users with positive mental well-being.
Discomfort Relief: Serving as a potential discomfort reliever, it offers temporary relief from aches, contributing to an overall sense of well-being.
Enhanced Sleep Quality: Assisting in treating insomnia, Green Maeng Da Kratom promotes restful sleep at higher doses, contributing to improved sleep quality.
Shipping details are tracked via our logistics partners
Enjoy our money back guarantee
| | |
| --- | --- |
| Weight | 110 g |
| Dimensions | 10 × 2.5 × 5.5 cm |
| Size | 100g (40 servings) |
Green Maeng Da Kratom Powder
Your review
* Review is required
Email
* Email is required
Add photos or video to your review
Q & A
What's the difference in green and red?